Greeting Everyone!!!
Today I have a layout to share that I created for this months sketch challenge at Scrapping Outback. If you would like to find out more about it please check the
Scrapping Outback Forum
for full details.
Here is my interpretation of the sketch..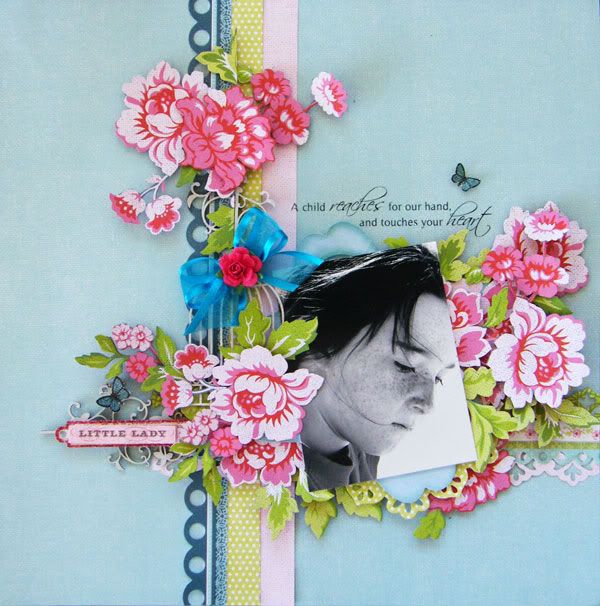 Miss Nelly by Kaisercraft, I just love this collection the colours are truly gorgeous, it is definately one of my all time favs. Once again my love of fussy cut elements is again dominant on my page with lots of layers and dimension and for something different a non white background, something I haven't done in ages...lol.
To create my page I have used Kaisercraft Miss Nelly Collection Her Eyes, Her Laugh, Her Dreams & Her Style patterned papers, Miss Nelly Sticker Sheet, Scrap Matts Birdcage Chippy, Kaisercraft Childhood Rubons, Prima Reflections - Shimmer patterned paper for the butterflies, ribbons, Spellbinder Lace Doily & Parisian Accents Border Dies, Assorted Roses, ScrapFX Vine Leaf Borders chippy, My Minds Eye Lost & Found Blush Princess Layered Stickers and Bo Bunny Welcome Home Noteworthy Page Accents.
And some close ups..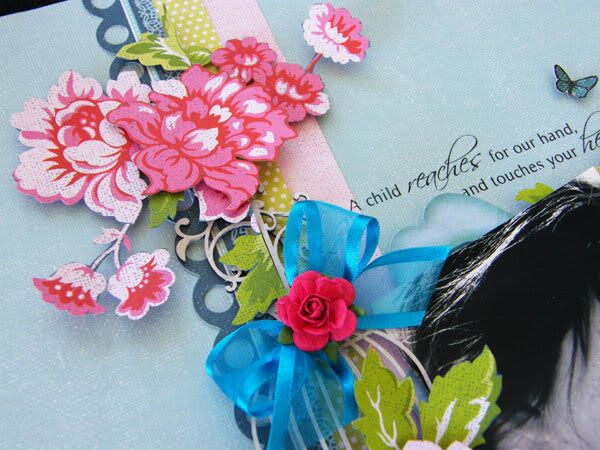 So I am going to go and enjoy a lovely cup of coffee while the children are quiet and not fighting, which I must say is AMAZING!!!
Thanks for stoppping in
Joanne