Greetings Everyone...
Well it has been quiet a few days since my last post, I have had so much going on that it seems somedays there is just not enough hours in the day. Today I have come down with the flu and feel pretty blah but thought I would do a quich update.
So My Scraproom Rules is in full swing over at
Scrapping Outback
. It has been a lot of fun so far and we are already half way through the competition. The gallery is looking amazing so if you are looking for some inspiraion be sure to check it out.
I was assigned to do an example page for Challenge 3 - Alicias Mystery Box Challenge. I absolutely love my page and have been playing again with lots of dimension. We were given a list of mystery ingredients and had to use only those ingredients on the page. It was open to your own interpretation and this is mine.
And some close ups..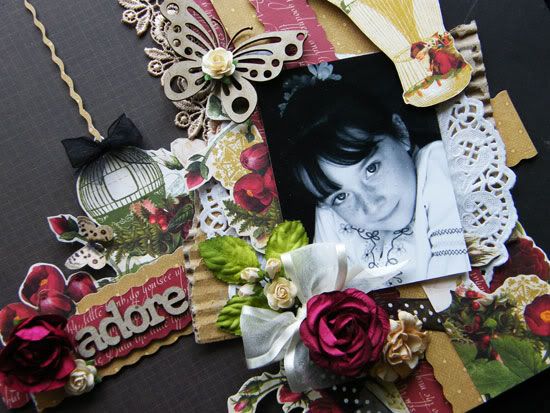 Once created we then had to list our ingredients and put them into cooking terms. It was a really fun challenge and it is great to see all the different interpretations loading into the gallery.
To create my page I used Websters Pages Waiting For Santa The delivery PP, Bo Bunny Timepiece Villa PP, Prima Reflections Meadowlark PP, Kaisercraft Aubergine Paper Blooms (available from the
SO shop
), Assorted Mini Roses, Dusty Attic Flutterby & Mini Words, White paper doily and ribbons.

Well I need to go and take some panadol and settle for the rest of the night.
Hope you have a great week.
Thanks for stopping by!!