This month I had the pleasure of playing with this super sweet little kit. I had a great time creating with it and I am sure you will to, so be sure to pick yourself up one from
Scrapping Outback.
This is my layout that I created with it as well as a few little hints to help you get creative.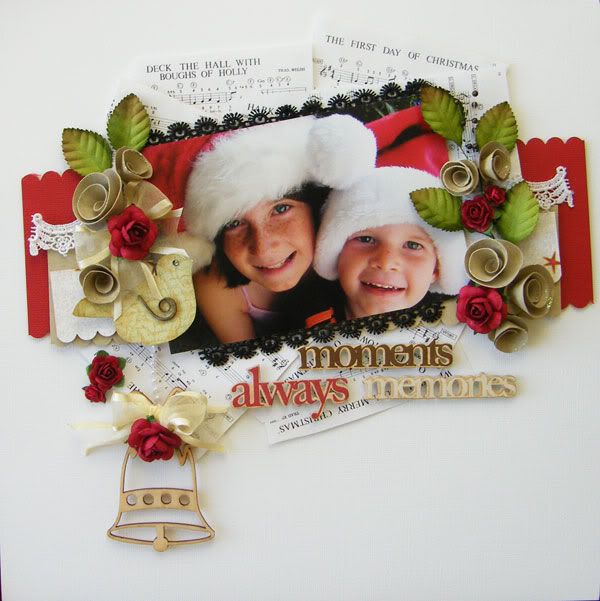 Moments Always Memories
Created by Joanne Bain
From the kit I have used - EVERYTHING - this being the list below
Ribbon
Cardstock - Red and Kraft
Patterned Papers - Carolees Adornit Happy Holidays Bright Star, A4 Christmas Sheet Music
Kaiser Wooden Flourish - Bell
Lil Davis Designs Vintage Chipboard Words
I have added some Crystalina Kindy Glitz for a little bit of sparkle, black lace that I had left over from the Wicked Wonderland Kit, a scrap of white lace and for my backing a piece of white bazzil.
To add an extra splash on colour to my page I also added a few Prima red roses and some Prima Dark Green Mulberry Leaves. The
Prima Dark Green Leaves
are available from the SO shop and a good substitute for my little roses would be the
Prima Symphony Blend Acceso Red roses
also available from the Scrapping Outback.
Thanks for stopping by..
Joanne